Whittington Heath GC, Lichfield
HS2 Course Re-development Project
Phase one commenced early January 2019 with the reconfiguration of existing holes involving tee, fairway and green alterations along with the complete reconstruction of all bunkering on the 13 holes that are to remain after the HS2 line. A new & updated irrigation system also formed part of our contract during the same period, designed by Irritech and installed by Irrigation Control.
From mid-March '19 works have concentrated on the construction of five new holes being created within 70 acres of adjacent arable land. One of the key parts of the project is the formation of substantial swathes of new heathland separating the new holes, which are being predominantly formed out of the sandy subsoil areas of excavation. The new landscape created by Jonathan's vision and design is formidable.
The bulk of the sandy subsoil mitigation areas separating the five new holes have been hydroseeded. Using our own Finn T90, 900 Gallon low ground pressure hydroseeder, we have covered over 17 Hectares of mitigation hydroseeding.
A new driving range, chipping/bunker green and putting green have also formed part of our works on the extension land, these being positioned adjacent to the new 1st tee complex for ease of access. Over 4km of pathways have been constructed on both the new and existing holes during the winter of 2019 & 2020 to suit the revised layout.
Our contract extended to the initial maintenance of all turfed, seeded & cored areas, prior to handing over to the greenkeeping team to carry out the remaining growing in.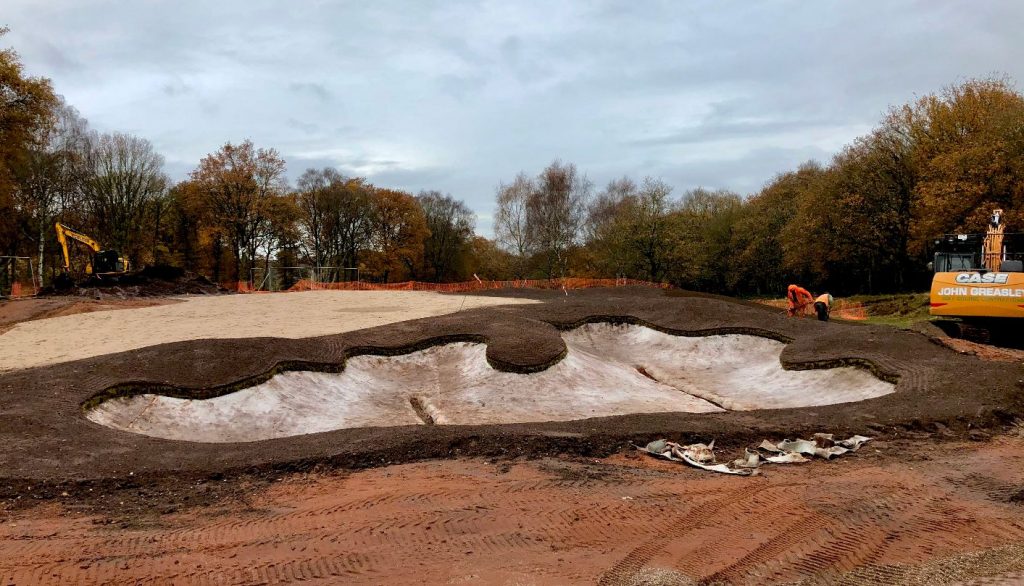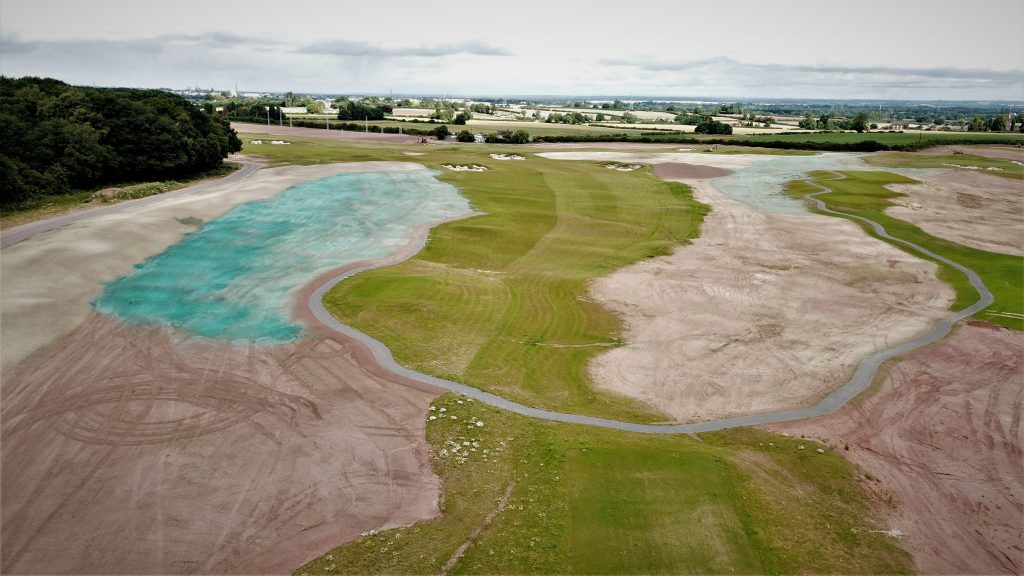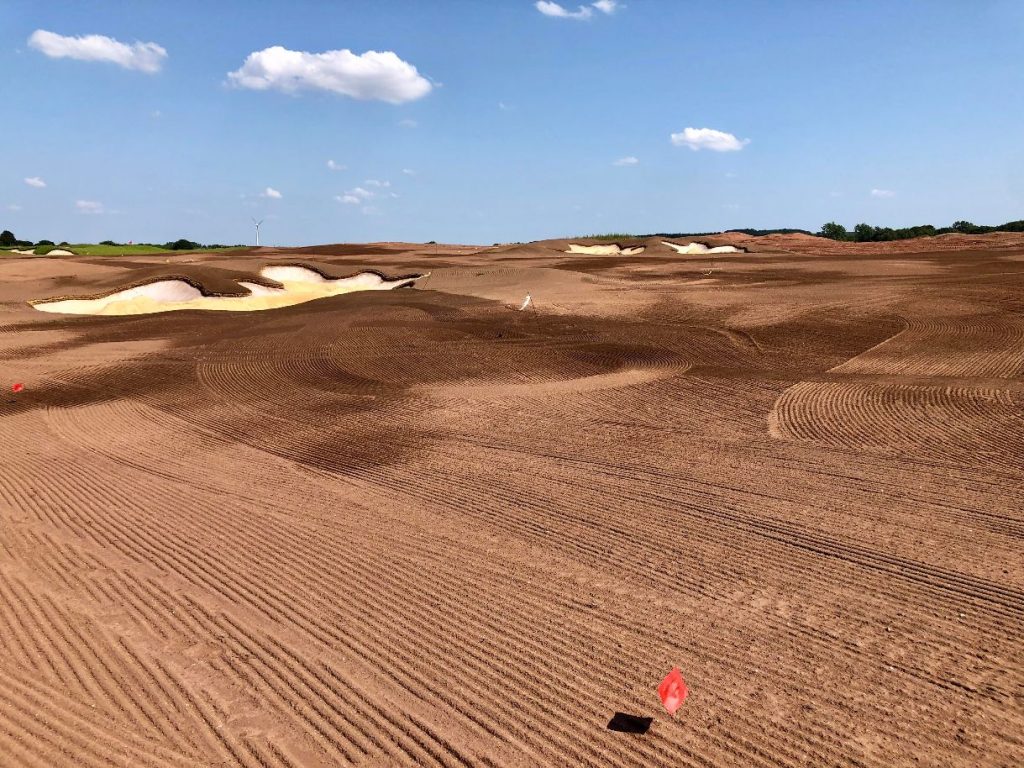 This major course reconfiguration project involving 9 holes born by the sale of a small parcel of land for housing development. We constructed 5 new greens, 8 tee complexes, 2 fairways and various bunkers were repositioned. Designed by Paul Thomas, the revised course has been positively received by the members. The changes have enhanced the playability and interest of the course which has attracted an influx of membership enquiries.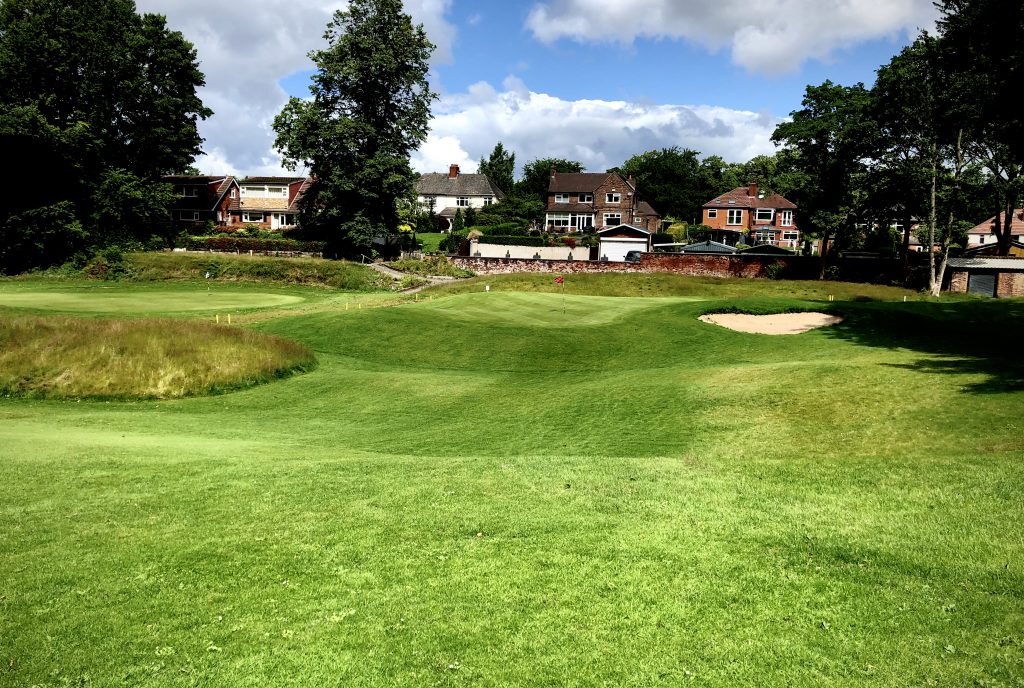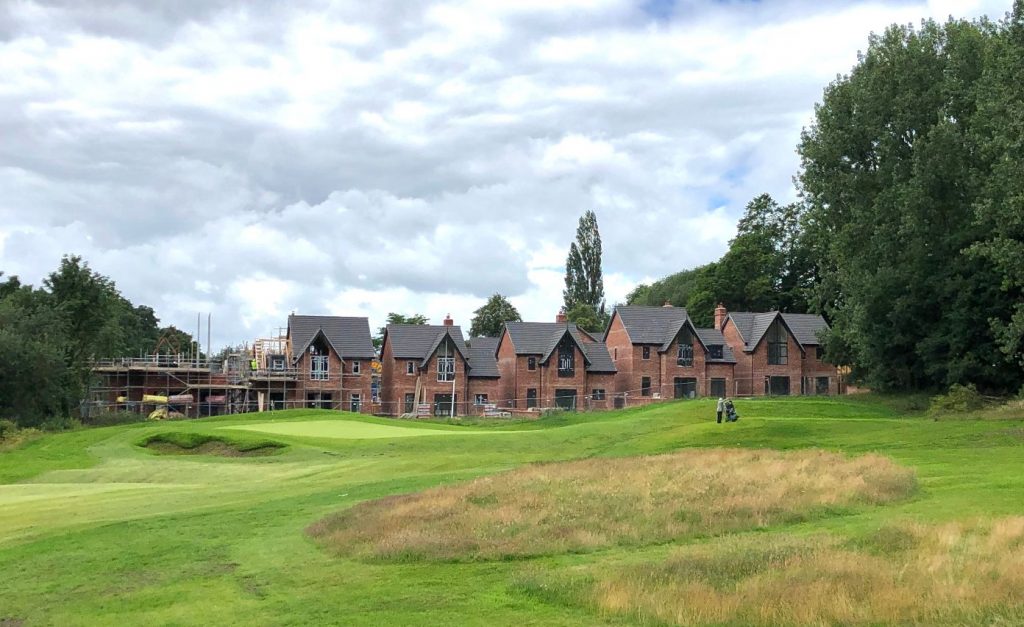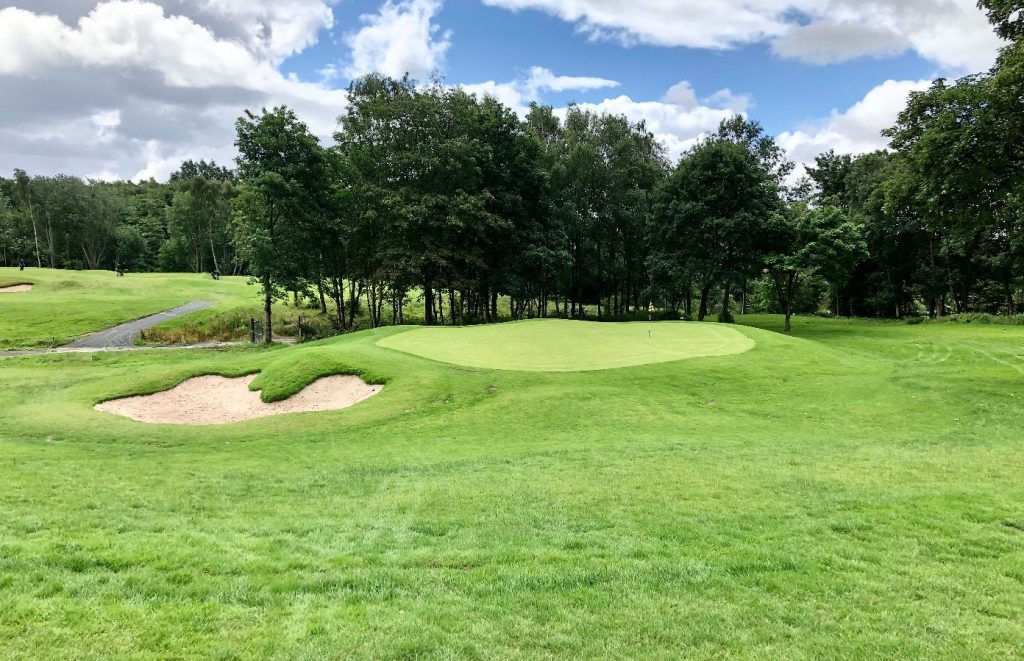 Handsworth GC, Birmingham
Works to this highly regarded course were linked to a major Environment Agency Flood Defence Scheme and involved the complete re-building of three holes, two of which were positioned on adjacent land.
Being in the flood plain, the drainage scheme for the development was intensive and involved extensive new mains, laterals and secondary gravel banding to the fairways. A new water feature on the re-positioned 11th approach involved a carefully engineered stream diversion to form a gabion retained & lined pond crossing the approach.
The entire scheme was Hydroseeded using our own personnel and equipment with fantastic results. We also went on to maintain the three new holes to handover, when they were ready for play.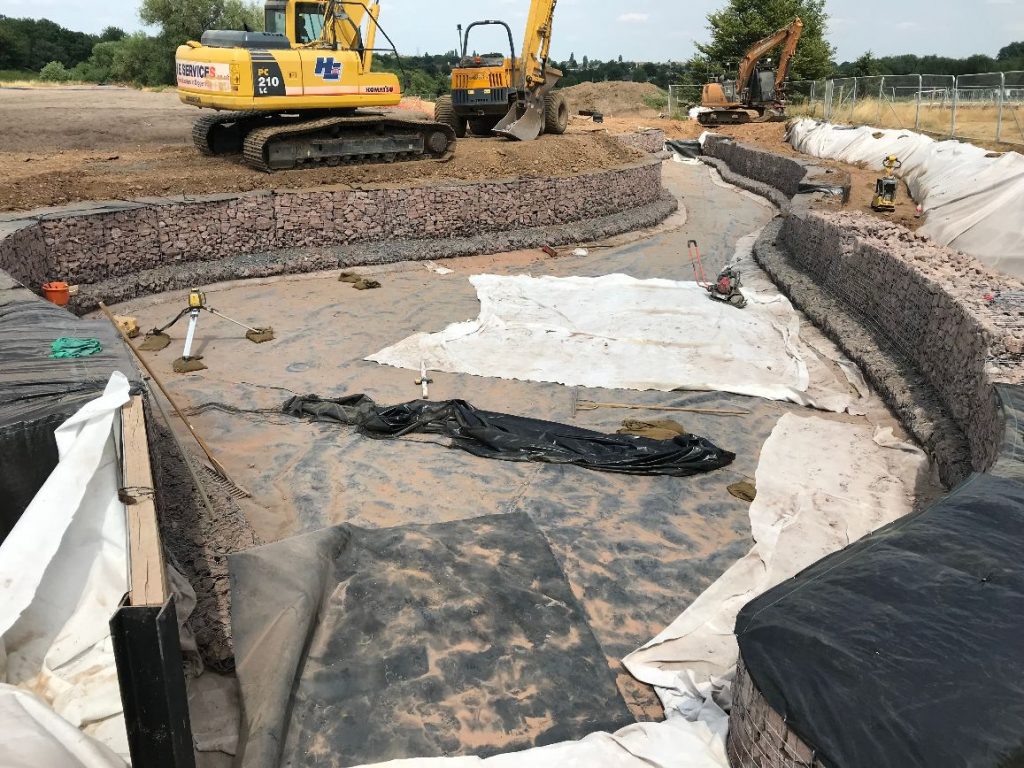 The Samling Hotel, Windermere
Perched on the edge of Lake Windermere & set amongst some of the most amazing scenery have ever been lucky enough to work around, this six hole short course was constructed by us in 2018 using artificial turfed greens and tees.
This provided this 5 star hotel with an all year round, maintenance friendly facility that can be enjoyed within a short space of time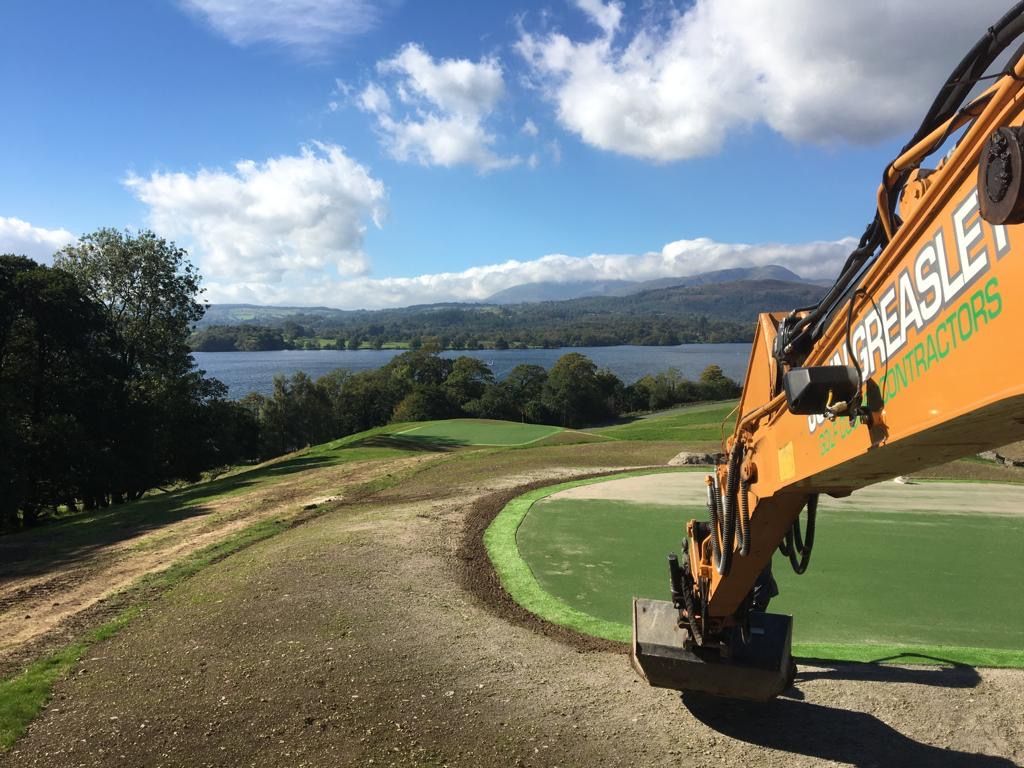 Stanford Hall, Leicestershire; Defence & National Rehabilitation Centre (DNRC)
This interesting and bespoke project involved the construction of a new nine hole short course with practice facilities comprising artificial greens and tees. The site was developed with minimal earthworks to keep it sympathetic to the surrounding landscape adjacent to the historic Stanford Hall.
The course had to be low maintenance, wheel chair friendly and accessible to all for the purpose of offering a slightly different rehabilitation experience.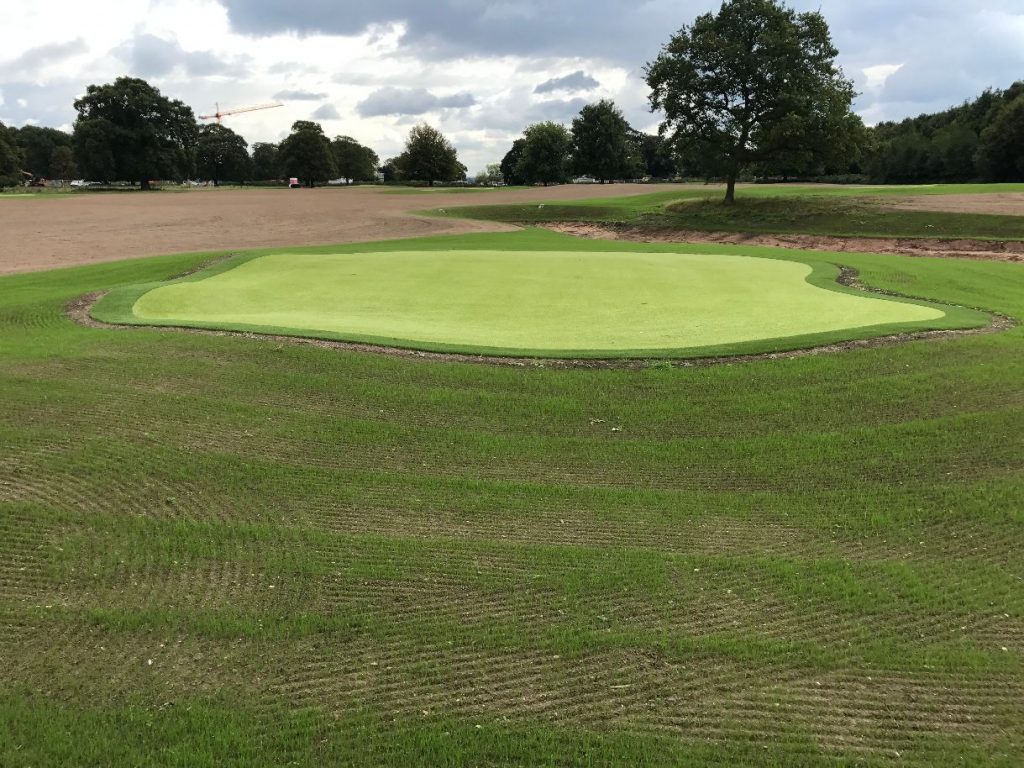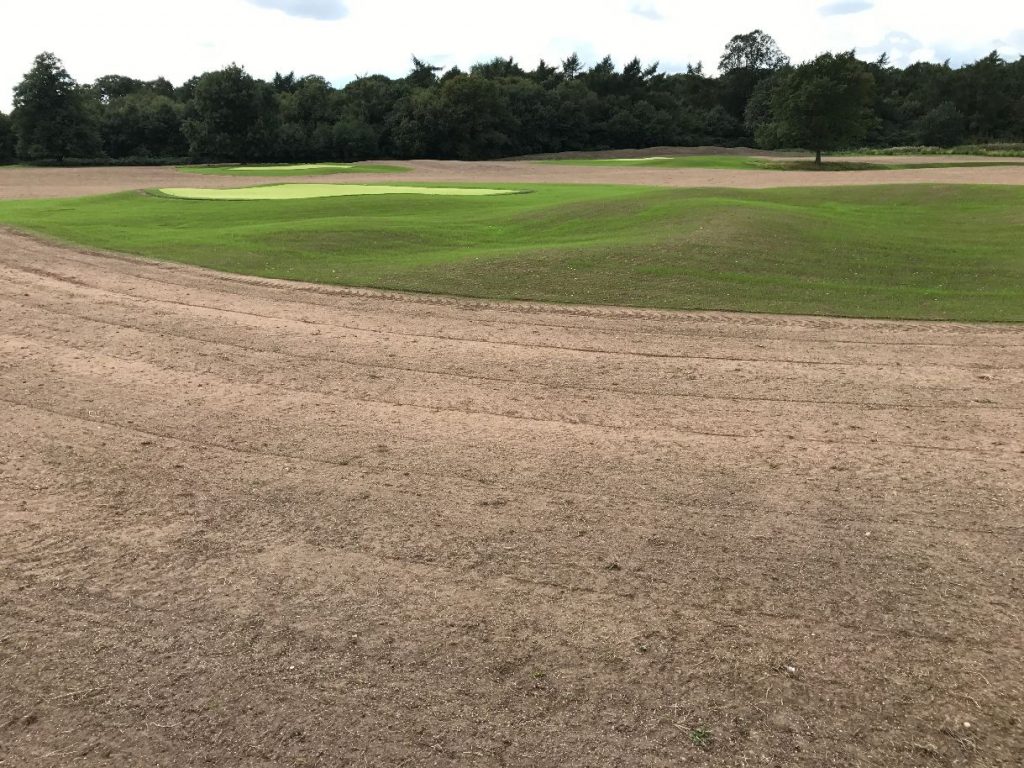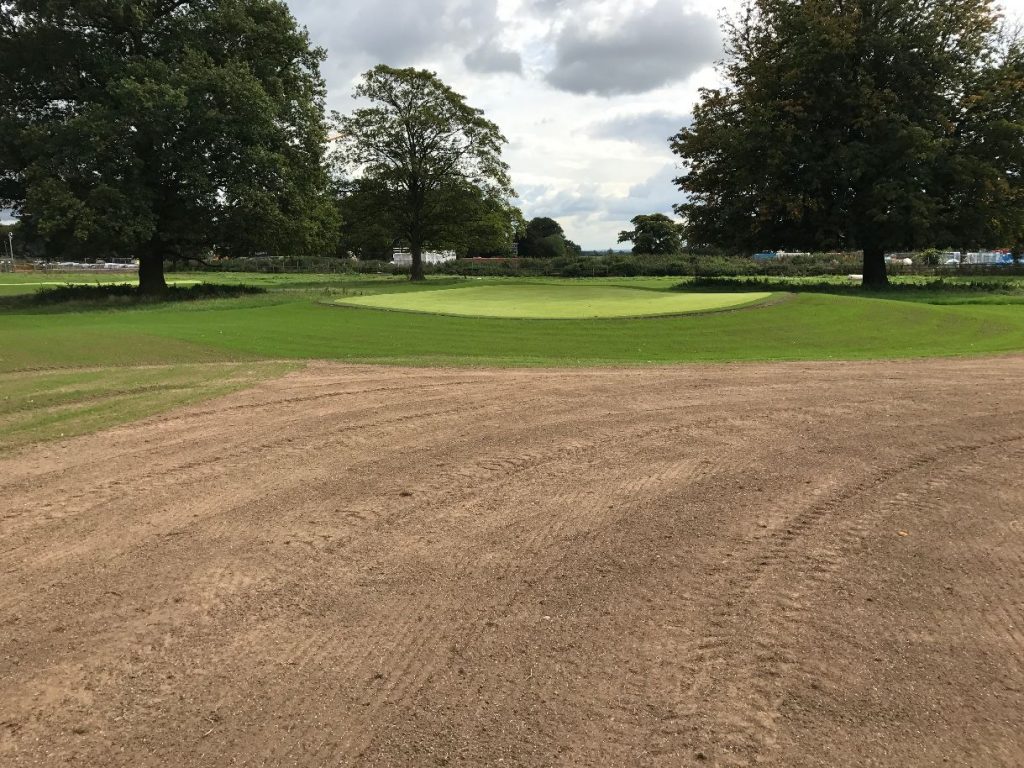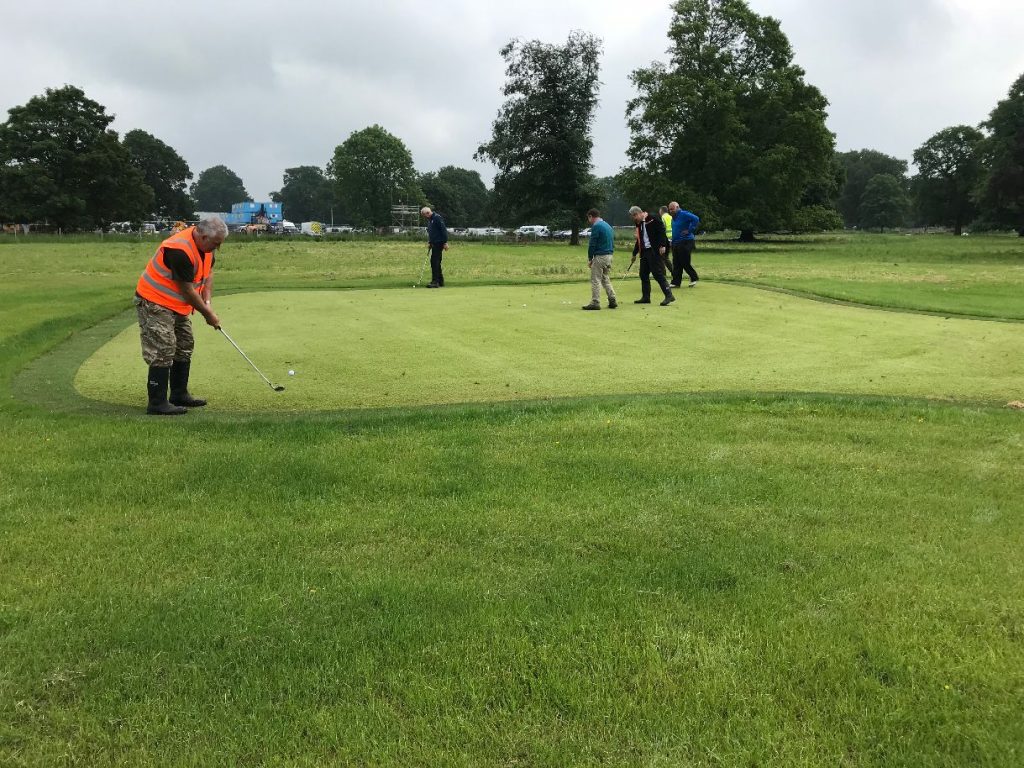 27 hole rebuild of greens, surrounds, bunkering and tees at Fureso Golf Club, Birkerod, near Copenhagen, Denmark. Work completed during the summers of 2013 & 2014. The substantial alterations designed by Tom MacKenzie of Mackenzie and Ebert are making a dramatic improvement, whilst being carried out in a cost effective manner. The emphasis of the project is concentrated on the greens' surrounds and bunkering.
The intensive programme is being achieved by three teams, each comprising an experienced shaper operating a 13 tonne excavator working with six tonne dumpers. The teams work in parallel with each other and carry out the stripping, earthworks, shaping, drainage, rootzoning and resoiling operations. A further team of finishers follows behind and carries out the cultivation, final preparation and seeding. With works programmed to be carried out during the summer months, all areas have been seeded in the conventional manner using BLEC cultipac turfmakers. A hydroseed mulch has then been applied to the surface of each area to provide a protective covering and help retain moisture. The results have been impressive with guaranteed rapid establishment along with no surface water erosion of the exposed soil or rootzone during the initial growing in.
The grow-in period for phase one was relatively short with the construction completed and seeded down by September 2013 and fully opened for play during May 2014.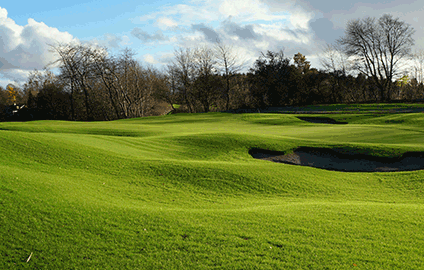 Ferrybridge New 9 Hole GC
John Greasley Ltd has been carrying out the construction of a new nine-hole golf course at Ferrybridge in West Yorkshire, designed by Simon Gidman Golf Designs. Works started in April 2015 with the re-location of over 50,000m3 of subsoil to create the new greens, tees, fairway mound work and bunkering.
The construction works were completed by the end of July with the course being seeded down in August.
Wychwood Park Golf Course, Devere Group, Cheshire
Construction of a New Eighteen hole European PGA Tour championship course to USGA ctiteria with extensive water features, lakes, a 54,000 M3 capacity reservoir and driving range/practice facilities. Project involved major earthworks in the region of ONE MILLION M3 of material moved. This environmentally sensitive site required the translocating of 40,000 M2 of marshland grasses along with creating Wild Flower areas and wildlife habitats. Extensive landscaping, tree and shrub planting. Growing in and maintenance undertaken up to opening.
Architect: Hawtree Ltd.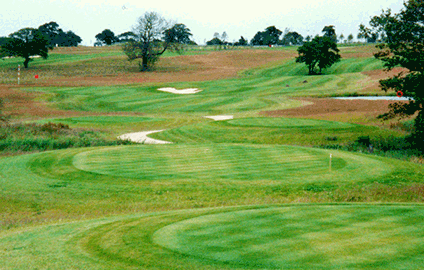 Bury, Stand & Ellesmere Golf Clubs
We have recently been involved in one of Europe's largest utility projects. The 1.20M diameter West-East link water main was installed through a number of Golf Courses around Northern Manchester by United Utilities and Murphy Pipelines.
The enabling and reinstatement contract carried out by John Greasley Ltd, valued in excess of £1.7m was overseen by Jonathan Tucker of the STRI and programmed in tandem with the main pipeline installation. Numerous Tees, Greens and Fairways were reinstated within the easement that stretched several miles across the three courses. Extensive piped land drainage and gravel banding being installed throughout.
In excess of 85,000m2 of turf was imported and laid to re-establish the areas more quickly. Our role was also extended to the growing in and maintenance on all three sites until they were ready for play.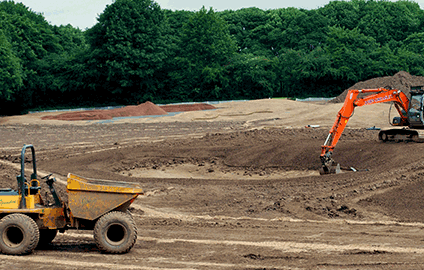 Gorstyhill Golf Club, Cheshire
Construction and growing in of this new eighteen hole members course. All 18 holes were constructed during a 16 week period, including earthworks, land drainage, reservoir/lake construction, irrigation installation and seeding to all areas including fairways and roughs.
Architect: Hawtree Ltd.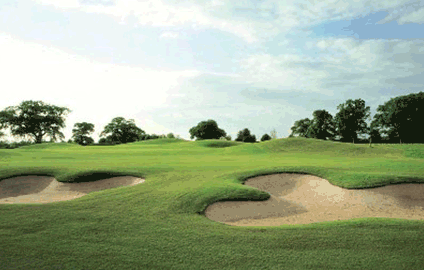 Tylney Park GC, Hampshire
This 18 hole course has been completely redesigned with 6 new holes built on adjacent farmland along with an ornamental lake. The holes on the remaining parkland have been totally rebuilt to a new layout designed by Tom Mackenzie.
All greens are constructed to USGA guidelines with extensive sand amelioration to green approaches, surrounds and tee walk off areas. Subsequently a new lake has been created on the 1st Hole, along with additional bunkering and supplementary land drainage.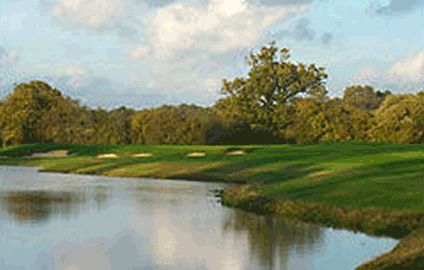 Heswall Golf Club, Wirral, Cheshire
The extension of the course involving three new holes being built on new land adjacent to the Dee estuary with the re-location of three greens and three sets of tees on the existing course. Extensive fairway and approach drainage was also undertaken.
2011 works involved the construction of a new practice facility consisting of putting, chipping and bunker practice greens.
Architect: Mackenzie & Ebert Ltd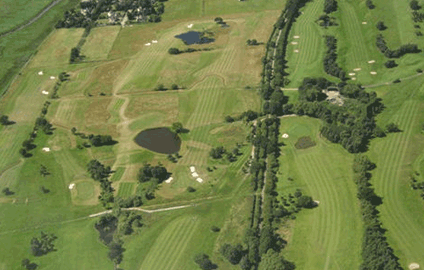 Ballindalloch Castle Golf Course, Banffshire, Scotland
New nine hole course with eighteen tees and practice ground constructed in delightful setting in the Scottish Highlands. Voted best New Course in Scotland.
Architect: Tom Mackenzie, Mackenzie & Ebert Ltd.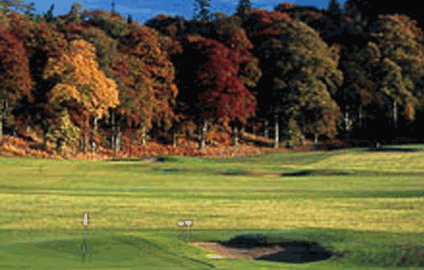 Golf Du Vaudreuil, Rouen, France
Construction of a new academy facility comprising of an interestingly contoured chipping/bunker green areas, practice tees, bunkering & putting green.
Designed by Hawtree.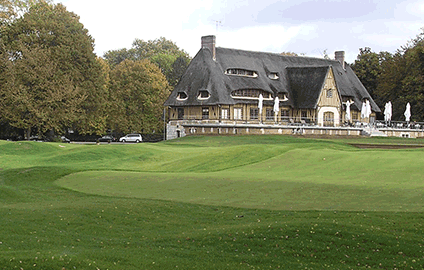 Ashton in Makerfield GC, Lancashire
A complete two hole extension constructed to USGA criteria including the creation of lakes, wetlands and full extensive drainage. Works are in conjuction with a new large diameter water pipeline being installed by United Utilities, running from Liverpool to Bury.
Architect: Jonathan Tucker – STRI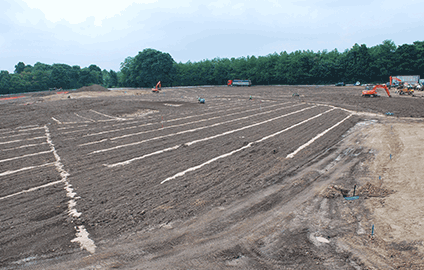 Minthis Hills Golf Club, Pathos, Cyprus
Complete 18 hole rebuild of this fabulous course out in Cyprus. Works involved creating new holes and practice facilities, rebuilding greens, surrounds, fairways, all bunkering, along with decorative stone walling, buggy paths and water features. All fairways, surrounds and tees were sand capped to a depth of 150mm and stabilised with 'Futerra' matting to prevent erosion during establishment. A new driving range also constructed.
Architect: Mackenzie & Ebert Ltd.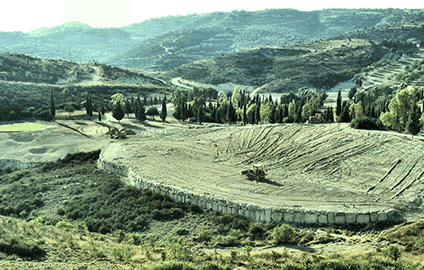 Poulton Park GC, Warrington
Construction of a new 'chip & pin' artificial chipping green, practice tee, along with a natural turf chipping/putting green.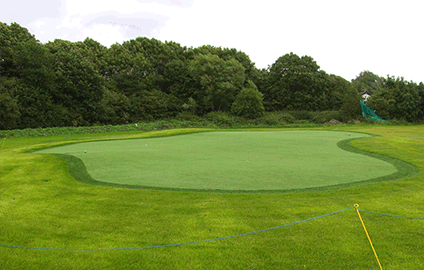 Whitby GC, Yorkshire
Construction of four new holes to replace parts of the course affected by coastal erosion. Architect: Simon Gidman
Molleans GC, Denmark
A two hole extension incorporating a new lake designed by Hawtree Ltd.
Park House Hotel, West Sussex
A new six hole par 3 course as part of this fabulous hotel complex
Gog Magog GC, Wandlebury Course, Cambridge
Construction of a New 18 Hole Championship Course 'The Wandlebury' designed by Hawtree Ltd.
Northamptonshire County Golf Club, Northampton
Creation of three new holes designed by Cameron Sinclair within adjacent pine woodland. This highly regarded venue has hosted the PGA Seniors Professional Championship.
Chevin GC, Derbyshire
Course extension on land adjacent to this parkland/moorland course situated within the Chevin Hills
Market Harborough GC, Leicestershire
Construction of 9 new holes to designs by Howard Swan. Later the refurbishment of all bunkers to 18 holes designed by Cameron Sinclair.
Hoebridge GC, Shey Copse Course, Surrey
Construction of this 9 hole Par 3 & 4 short course for Burhill Golf & Leisure Group
Deeside GC, Aberdeen
Construction of eleven new holes adjacent to the River Dee on Royal Deeside
Frilford Heath GC, Oxon
Newly constructed 18 Hole Golf Course along with four new lakes. Architect: Simon Gidman
Salisbury & South Wilts GC, Salisbury
Additional 9 hole course in and around Salisbury racecourse.
North Hants GC
Construction of 3 new holes designed by Martin Ebert.
Selby GC, Yorkshire
Relocation of five complete holes on this rather special inland 'links' style course. All bunkers are with extensive revetting.
Lichfield GC, Staffordshire
New 27 hole development with lakes and practice facilities. Architect Hawtree Ltd
Scarborough South Cliff GC, Yorks
Three new holes built to accommodate a new bypass, designed by Jonathan Tucker from the STRI
The Springs GC, Wallingford
New 18 Hole Course designed by former Ryder Cup player Brian Huggett MBE. Holes run adjacent to The Ridgeway Path and alongside the River Thames.
Thornbury GC, Avon
Thirty six hole golf development for Burhill Golf Centres Limited.